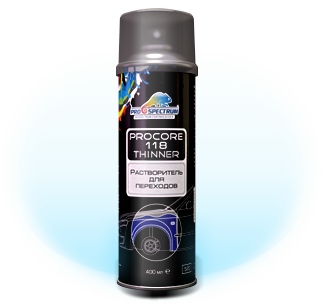 Merging coatings aerosol
Aerosol spray for merging a very range of brand new with an old basic coating layers. To be used as with paint coatings so clear acrylic based lacquer. For local repair only.
Directions to use:
1. Shake the container well, approximately for two minutes by. Hold the can 10 to 12 inches away from the surface, pointing the nozzle toward the coating area and spray.
2. The first method: the PROCORE 118 THINNER applied after the each one new layer coatings as soon as a new coating layer will do. Spray local only, along the border of new coating layer.
3. The second method: the PROCORE 118 THINNER applied after the last coating layer.


General transport and storage conditions:
This material and its container must be disposed of in a safe way.
If swallowed, seek medical advice immediately and show this container or label.
Use only in well-ventilated areas.
Additions:
Pressurized container: protect from sunlight and do not expose to temperatures exceeding 50°C.
Do not pierce or burn, even after use.
Do not spray on a naked flame or any incandescent material.
Keep away from sources of ignition - No smoking.
Keep out of the reach of children.

Shelf time:
at least 24 month.
To be supplied:
aerosol only, 400ml.