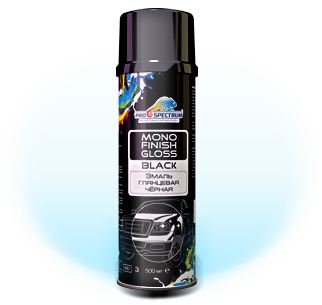 Gloss Black aerosol enamel
Quick drying enamel whith an attractive glossy effect, flexible, tough and UV protective coating. The MONOFINISH GLOSS BLACK aerosol is used for engineering and local cars repair: parts, bumper, etc.

For professional use only
Fast drying
Very high adhesion to most plastics without primer
Can be used like a primer for plastic surfaces
Working with whole kind of finish and primer coatings
Simply use aerosol paint and end up with very professional results
Handy aerosol packaging has allowed to apply the MONOFINISH GLOSS BLACK within hard frameworks

Directions to use:
1. Shake the container well, approximately for two-three minutes by. Hold the can 10 to 12 inches away from the surface, pointing the nozzle toward the coating area and spray
2. Working aria must be dry, clean and degreased totally!
3. Spray the MONOFINISH GLOSS BLACK with thin layer only!
4. Waiting within at 15 minutes before the next layer. Never apply another coat unless the previous coat is dry. It will take at least 2-3 coats to do it right!
5. To clean out the nozzle, hold the can upside down, depress the nozzle (be careful where you aim!) and keep spraying until the sound changes and you're spraying mostly air instead of paint. Then stop spraying and quickly wipe off the face of the nozzle with a rag


General transport and storage conditions:
This material and its container must be disposed of in a safe way.
If swallowed, seek medical advice immediately and show this container or label.
Use only in well-ventilated areas.

Additions:
Pressurized container: protect from sunlight and do not expose to temperatures exceeding 50°C.
Do not pierce or burn, even after use.
Do not spray on a naked flame or any incandescent material.
Keep away from sources of ignition - No smoking.
Keep out of the reach of children.

Shelf time:
at least 24 month.

To be supplied:
aerosol 500ml.